BRIEF PROFILE
PT. Dataindo Inti Swakarsa is a leading provider of Indonesia business information. Established in 1998, Dataindo has conducted extensive research into Indonesia's industries, trade statistics, and major companies to compile the most up-to-date and comprehensive business information database of Indonesia.
Dataindo is the publisher of the b2b Indonesia CD-ROM. First released in the year 2000 and now in its fifteenth publication, over 100,000 units have been sold; making it Indonesia's widest circulated business CD-ROM ever.
Dataindo's clients include Indonesia's leading banks, accounting firms, government departments, as well as major international companies in every industry sector.
The availability of all business information on line has broaden the Company's client list and made it possible for the international business world to access Indonesia company data, tariffs & trade, industry reports with a simple click.
Dataindo is a private national company incorporated Indonesia under a technical arrangement with Digital Information Services Pty. Ltd. and IBISWorld Pty. Ltd.(Australia).
OUR COMPANY
Name of Establishment
PT. Dataindo Inti Swakarsa
Address
Gapura Raya Building, 3rd Floor
Jl. Bangka Raya No. 4, Pela Mampang, Jakarta 12720, Indonesia
Phone Number(s)
(62 21) 719 3832
Facsimile Number(s)
(62 21) 719 3834
Line of Business
Publisher of Indonesia company reports, Indonesia industry reports, Indonesia tariffs and trade reports, and CD-ROM business directory
Email
info@disb2b.com
Website
www.disb2b.com
Number of Employee
45
Establishment Date
October 1998
NPWP
01.854.278.8-014.000
Establishment Status
Private National Company
Brand Names
b2b Indonesia; DIS-IBISWorld
Who's Who at DIS
Commisioner - Utomo Umarjadi

Utomo was appointed as Commisioner of Dataindo in 2011.

Born in Tokyo, Japan, Utomo has studied and lived in Germany for over 15 years.

Advisor - Robert Darmago

Robert is the founder of PT Dataindo Inti Swakarsa and advises the Company in all aspect the business.

A graduate in Economics, completing a Bachelors of Economics at the University of Western Australia.

Advisor - Justin Ruthven

Justin advises Dataindo in all aspects of Indonesia Industry reports.

He has been with IBISWorld for 20 years, holding positions in most aspects of the IBISWorld business including research, sales, client services, marketing and product development as well as Managing Director of IBISWorld Indonesia in 1996.
Our Director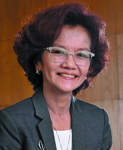 Uraini Umarjadi
Uraini is reponsible for PT Dataindo Inti Swakarsa's operations.
During the 15 years as the Company's Director, she has expanded the Dataindo business from a simple database company to Indonesia's richest sources of business information introduced it to various cities in Indonesia.
Born in Bonn, Germany, Uraini has lived and was educated in Geneva, London and Jakarta.